Hello
I just received feedback on my application, and need to understand a few things. Below is the rejection reasons: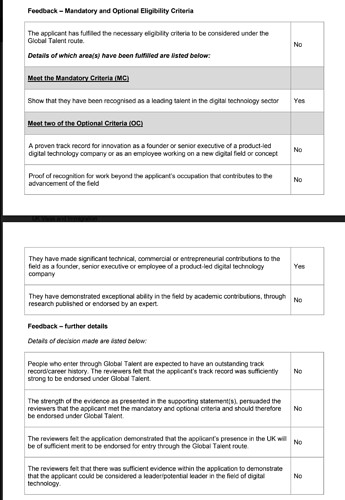 Assessment panel feedback:
"The applicant is a competent, well remunerated and well-respected xxxxxx who has held a broad range of roles in the digital technology sector internationally.
He meets the requirements of the mandatory criteria and also the requirements of the second optional
criteria that he has selected (referring to having made significant technical contributions to the field as
an employee). However, he has not sufficiently demonstrated in this application how he meets the
requirements of the first optional criteria he has selected with respect to evidencing a proven track
record for innovation.
In terms of evidence for the optional innovation criteria, the applicant has provided two items. The first is
an employment contract for xxxx in the USA where the applicant was employed as an
xxxxxx for a period of less than xxx months in xxxx/xx. The applicant does not anywhere
say how the work he was performing contributes to the requirements of the innovation criteria. It is also
very difficult to determine what element of the company's success can be attributed to the applicant
considering that he worked there for such a short period of time. He worked as part of a team
developing a data and analytics platform on xxx to support a xxxx solution. It is unclear how this
could be described as innovative or how the applicant's contribution specifically led to the company
increasing revenue by xxx% and securing sponsorship. The applicant has not provided a letter of
support from any member of the xxxx team that independently verifies the quality of and innovative
elements of his work.
The second piece of evidence to support this criteria is an employment contract with xxxxx in xxxx where the applicant worked for xxx months during xxxx/xx as part of a team of solution
xxxxxxx "ensuring data processes were
met". Again, the innovation aspect of this role has not been clearly explained in the evidence provided
and again there is no letter of support or similar from a manager.
Due to these shortcomings, we are unable to endorse at this time."
I would like to understand how 2/3 of the criteria are satisfied and then going through the further details section of the feedback a "No" was received for 4 reasons - does this relate to the personal statement or the 3 criteria themselves?
Also, since the OC1 criteria were rejected because no reference letter was submitted, I have gone ahead to ask my previous line managers from the different companies for reference and was thinking this should be sufficient with previous supporting documents that were accepted for MC and OC3.
Would this be okay for a resubmission next week once the reference letters have been received?