Hello everyone,
I am reapplying for the Exceptional Promise endorsement after my initial application in April. I would greatly appreciate your assistance in reviewing my application before submission.
In my initial application, I successfully met one out of the three criteria. However, the reviewer's feedback indicated that I did not provide enough evidence.
This was my last feedback: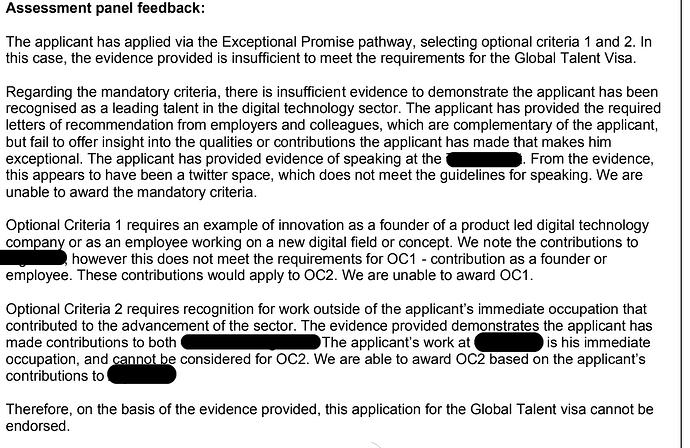 My new application documents
GENERAL DOCUMENT REQUIREMENTS:
Personal statement: I discussed my deliberate choice to pursue a career in technology, emphasizing my journey into the field of blockchain engineering. I elaborated on the challenges I encountered while acquiring advanced technical skills, as well as my motivation for participating in public speaking events related to blockchain technology. I also outlined the increasing number of job offers I have received from recruiters and articulated my potential contributions to the UK economy.

Professional resume: Professional Resume Highlighting My Blockchain and Software Experience

Letters of recommendation: Three-Page Detailed Letters of Recommendation Describing My Work and Its Impact, Providing Comprehensive Detail to Showcase Exceptional Performance.
MANDATORY CRITERIA:
Reference letter from a Blockchain Community for a workshop I was the instructor for a niche blockchain technical topic: This letter includes appended screenshots showcasing positive attendee feedback comments, the event banner, and viewer metrics.
Google IO Public Speaking Reference on Blockchain: This comprehensive letter from Google IO highlights the impact, target audience, and underscores my expertise on the subject. It is supplemented with a screenshot of the invitation email, an image of me at the event, attendee comments, and a photograph of the engaged audience.
Event Organizer Reference (one of Southern Nigeria's Largest Tech Talk Event): The reference details the impact of my speech, the reasons for selecting me as a speaker, and the event's significance with over 24000 registrants. This includes a screenshot of me on stage, the captivated audience, and the event banner.
Current Employment Salary and Regimentation Comparative Analysis: A comparative report detailing my current employment's salary structure and regimentation in contrast to the average salary in my country.
OPTIONAL CRITERIA 2:
Blockchain Contribution Document: A self-authored document cataloging my contributions to two blockchain networks, complemented by screenshots of my GitHub commits and references pertaining to bounties received for blockchain value. (Previously met criteria in last application)
Open Source Project Organisations Reference Letter (Over 1300 Stars): This letter is from the Media Manager at one of the blockchain project, attesting to my active participation in open source hackathons.
Hackathon Platform Acknowledgement Letter: This letter is from the projects platform, formally acknowledging my substantial contributions in various hackathon projects.
Optional Criteria 3:
CTO's Reference from AI Product-Led Startup: A letter detailing my pioneering contributions at an AI product-led startup, including their successful fundraising of $3 million and international media recognition. This is accompanied by screenshots of media mentions and a summary of GitHub commits.
Technical Lead's Reference (Current Company, Netherlands Based): This letter from my technical lead affirms my contributions to a unique blockchain wallet developed by the company. It also highlights my role in their flagship product, complemented by screenshots of media mentions from European news sites, a summary of my GitHub commits in project, and a company LinkedIn appreciation post that tagged me, regarding the flagship product release.
Media Pages Compilation: A compilation of screenshots showcasing my commits at my current company, supplemented by images of hand-drawn architectural diagrams on Miro whiteboard, digital versions of the architectural diagrams, and database ERDs - all designed by me. Additionally, a screenshot of media mentions in news outlets is included.
Please your critical review is needed .
Note: The two talks was held earlier last month.
@Francisca_Chiedu @Chaitanya_Bapat @ask4jubad