Hi all,
I applied for Exceptional Promise on May 27 and got my rejection on July 4.
I didn't get MC and OC1, but I got OC3.
Here's the reason for my rejection.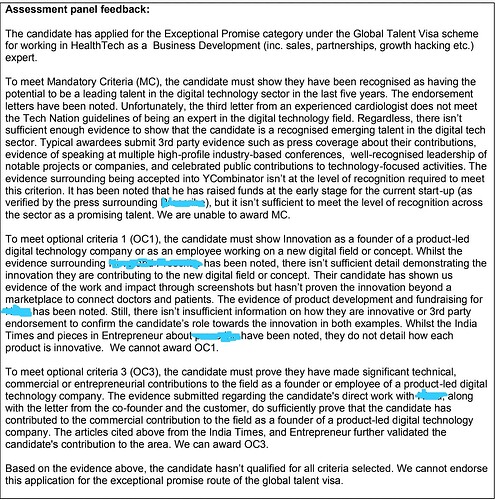 For OC1, This was a mistake from my side as I didn't explain the innovation and just gave screenshots in my evidence without any explanation.
For MC, I feel like they have overlooked some of my evidence.
As for my 3 recommendation letters, 2 were founders of unicorn startups who are my mentors, and the 3rd one is from one of the pioneers in digital health in India and one of the best cardiologists in the country. I think they overlooked his resume as well.
My Evidences
MC
YCombinator Acceptance Letter
£1Million Fundraise for my current startup (Bank statement, no newspaper clipping as it's in stealth)
$120k Fundraise for my previous startup (Newspaper clippings)
OC1
Innovation with my current startup with an annual revenue of $500k in 12 months - Provided the screenshots of the app, website, trustpilot, google review - I didn't explain how it's innovative.
Innovation with my previous startup during COVID - Provided newspaper clippings from some of. India's leading newspapers - I didn't mention explicitly the innovative elements. I just posted the newspaper clipping.
OC3
Impact through my current startup - Clinical evidence of 95% of customers experiencing a reduction in symptoms in the first 30 days from our treatment plans
Co-founder Reference Letter
Customer Reference Letter - The customer is an NHS official who is a doctor herself, she also explains the potential of our product in UK healthcare through her letter.
My Appeal
MC(this is the exact response I'll be sending, not sure what else to send)
Here is a consolidated summary of my CV and supporting evidence that underscores my potential for exceptional promise.
Graduated from IIT Madras, India's top-ranked university(NIRF ranking), with a <1% acceptance rate, showcasing my strong technical acumen and potential.
Successfully founded, scaled, and sold two tech startups, X & Y, demonstrating a consistent pattern of entrepreneurial achievement and innovation.
Chosen for YCombinator, the world's best startup accelerator with a <1% acceptance rate, testifying to my promise in the tech sector. Its track record—1 in 20 selected companies become unicorns($1Billion+)—further accentuates its prestige and my potential.
Raised £1 Million ($1.3M) in seed funding for Z, as documented by bank statements, underscoring the faith top-tier investors have placed in my vision and capabilities. The initial absence of press coverage is due to Z's strategic stealth mode of prioritising product development.
Led Z to generate $500,000 in annual revenue within just 12 months, a remarkable financial accomplishment achieved under the guidance of globally acclaimed startup founders.
OC1
For my current startup, I'll explain the innovation (based on the evidence I provided), and I was thinking of referencing the clinical evidence and the reference letter from an NHS official on how our product can be transformative in UK healthcare (From the OC3 evidence - to make it stronger)
For my previous startup, I'll quote the innovation elements from the newspaper clippings to explain their innovation.
Recommendation letter
I'll showcase some of the evidence from the doctor's CV that indicates his excellence in the digital health space. (His CV is spectacular, i think this will go through)
@Francisca_Chiedu, kindly help me with your suggestions.