I don't know why, why are they ignoring my evidences and just reading part by part.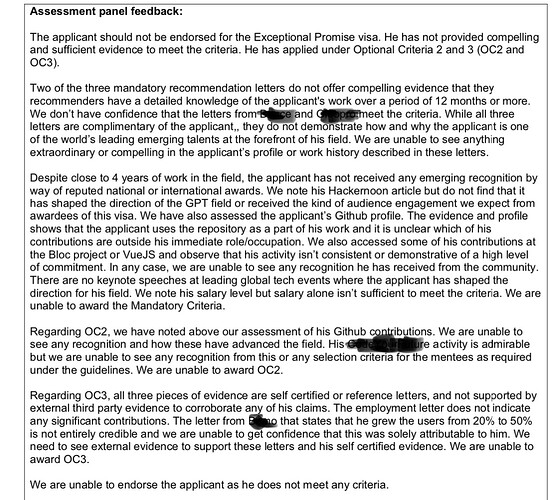 Two of my recommenders spoke about my work, accomplishments, impact of work in Nigeria both in logistics, education and e commerce also Open source projects I've been involved with. Those paragraphs were ignored.
That they don't know anything about my work…
MC
I led a product led company.
News clip with my name, reference letter from my employer with screenshots to public repo.
This was ignored
Two open sources projects I am part of maintaining with my commit histories. I showed that I am the top contributor of these projects.
**All these was ignored **
But they brought single evidence from CO2 to validate me here

Articles I published, I added screenshots of tweets of users who said they have learnt on how to use my article.
They then use these to judge me.

Offer letter. I know this was not important, so I made it last.
C02
Open source projects and contributions
I showed my open source projects and all contributions I have made.
But they say my contributions was past of my job and when they say consistent contributions I didn't contribute to only one. But they picked just what they want and said I was not consistent with it.

Mentorship… I added evidence of my mentorship and slack message of mentees who got jobs mentioned my name
But they ignored it

Reference letter too explaining my impact. This was ignored
OC3
I explained my impact in my previous job. With code screenshots showing my name. Also reference letter from my previous employer. He also explained in details what I did that made the increase in percentage.
The guide said u can submit a reference letter, show why are they asking for external evidence

Offer letter from my previous job.

Impact at my present job with a reference letter from customer also added link to public repo.
This was ignored
Please, how can I go about this
@Francisca_Chiedu @May @alex_james