I am so glad to share this method of Proper Verified DocuSign that I have found myself after weeks struggle!! I am so amazed that no one has ever mentioned it or made lives easier…Well, here is the thing:
Background information:
No, you SHOULDN'T MERGE the pdf or play with it like editing etc, to add that CERTIFICATE.
Reason: As an IT professional, I got baffled that as a professional practice, you should NEVER do anything with eSigned documents as it will make it UNVERIFIABLE…so there's no purpose left of all that struggle if you still merge or edit it to add that certificate file.
so WHAT to do?
Solution:
I just found in the settings of the docusign that allows you to ADD CERTIFICATE automatically once the signature is completed by the author!!! Then you download that eSigned pdf and it will have a certificate already at the end!!! Whoaaa!!!
How to do it?
Here you go, just check mark this option from the setting: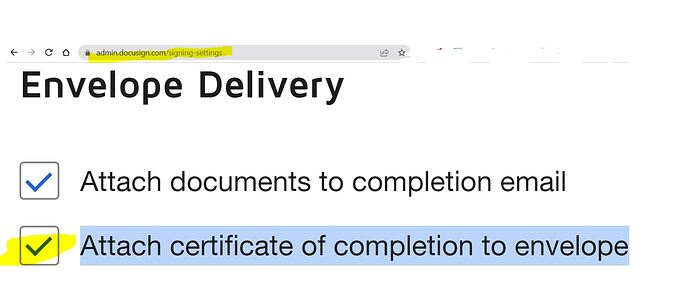 Hope it helps and happy to give back to the community