Dear All,
many thanks for sharing your experiences and thoughts. I am in the process of uploading evidence files and I saw a Note in the TechNAtion application's form that roughly says:
Note: Whilst you can use multiple documents to support each criteria, each document must only contain a single piece of related evidence.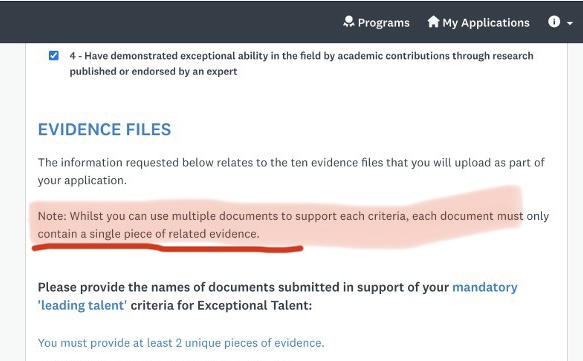 In some of the documents, I put two reference letters in one document, addressing and confirming one topic. for instance: For one of the Mandatory criteria documents, after a brief explanation about my startup and myself I put two reference letters and one certificate (Knowledge-intensive company) all arranged in 3 pages.
A reference letter from my co-founder which confirmed my role and contribution
Another reference letter from a Director of the Technology Incubator where we were a member of them. confirming my role contributions and startup achievements.
Certificate of a Knowledge-intensive company
Please kindly advise me, on what I should do now based on the TechNation expectation. can I proceed with the TechNation process or do I need to revise my documents and remove extra pieces of reference letters and evidence that I put in one document?
Thanks a lot