I want to send special thanks to everyone that has offered help on this forum- i have learned loads.
I currently live and work in the UK but I plan to switch my visa. Having almost 9 years experience, it was natural for me to pick the Talent Route. So I submitted the following:
-CV and Personal Statement
-3 reference letters (1 from startup partner, 1 from previous HO Product, 1 from a BCS member)
-Screenshots from BCS to show mentorship
-Screenshots from blog with most articles having 200-500 views
-Photo of Award from IEEE
-degrees and certifications to show technical strength
-screenshots of YouTube videos with 3K views of workshops
-photos of ERD, wireframes of mobile app I am making in my startUp, Investors Deck and startUp company formation documents in the UK (I wrongly assumed that I had to show my own app; Yesterday, I found out that I could use the ones that I built for my employers
).
-work contracts and salary information (I assumed my salary was high- i guess it's not!
)
TIMELINE: Submitted 1 September 21. Received Response: 24 Septemeber 21
I got this rejection (lol)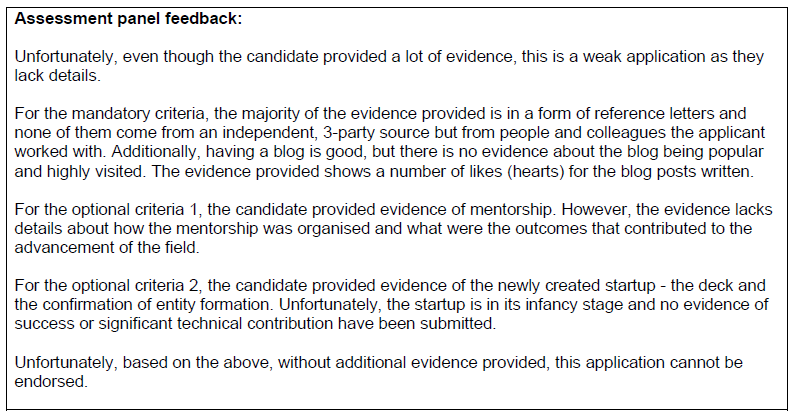 -It is weird that they said that I got recommendations from people that I have worked with (am I not supposed to?)
-also, I have not worked with the last referee (from the BCS). I only met her on a group that she is a patron of; she agreed to recommend me because I was also a member of the society.
-The screen shots of my blog had the VIEWS beside the likes-- I don't get how they missed it.
-They ignored all the other evidence and then spoke about the start-up that I am bootstrapping (any reason why?)-- i thought showing them that I had a business idea would make the application strong.
Questions
I would appreciate if you guys can please answer these questions for me, because I struggled to understand their response:
Can I reuse my old references?

How do I detail how I mentored (I previously attached screenshots of Whatsapp and conversations on the BCS platform)?

How much is a high salary? I thought 63K was high

I feel like I am doing something wrong since they referred to my application as weak and lacking details. How do I put details and screen shots in 3 pages?
Next Steps
I will re-apply as a Promise-- I have worked in a Product-led company for 3-4 years. I will use the above evidence and proof of a publication in a Magazine this month, and evidence apps that I built with my previous employers.
However, i really need to learn how to package my evidence so it doesn't lack details (i mean how am I to squeeze everything in 3 pages? and what details are they talking about?)
As @Francisca_Chiedu said, I will read the new TN guide effective 6th Oct and only focus on 2 OC and 1MC.