Hello everyone,
I'm having some trouble filling out the IHS form and was wondering if anyone can offer some advice. I'm currently in the UK with a Tier 2 (General) visa along with my dependent, and I'm planning to switch to a Global Talent Visa with my dependent. I want to make a 3-year Global Talent Visa payment, including my dependent in the process.
I'm a bit confused about a section of the form that asks about my relationship with someone already residing in the UK (see screenshot below). Since my dependent and I are already in the UK and don't plan to leave, it seems logical to fill out this section. However, when I provide my dependent's information (including her existing PBS dependant Tier 2 and expiration date), the form asks me to pay a 1-year fee for both of us. I'm not sure if it is because we don't need to pay again because we already have an ongoing visa, or if this field of the form is not applicable to our case.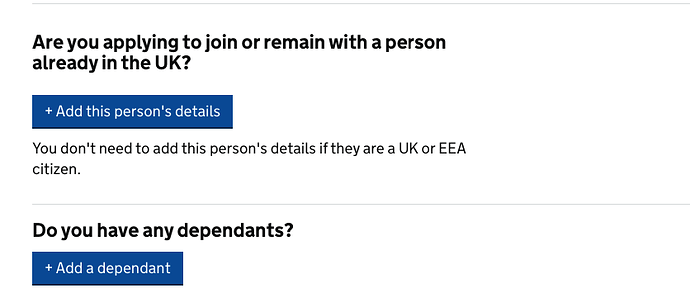 If I skip this section, the form asks me to pay a 3-year fee for both of us, which I believe is the correct payment amount. But I'm still unsure if I should be filling out this section or not.
If anyone has had a similar experience or can provide some insight into this matter, I would greatly appreciate it.
Thank you for your help.